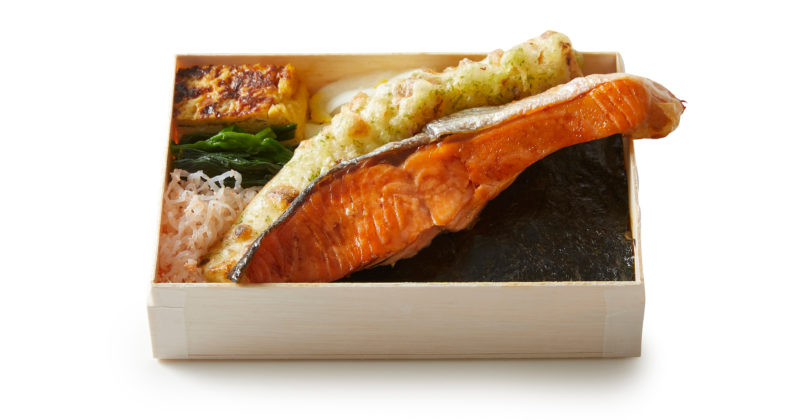 TSUKI Tokyo breakfast A traditional Japanese Bento "Noriben"
Seaweed bento meal from  "Hakejouyu Noriben Yamanobori" is available, by reservation, for breakfast at TSUKI. The shop is so popular that people say "More than 100 people line up for 1 to 2 hours to purchase a bento" and "People rush straight into the shop as soon as the department store opens", and "Even numbered reservation tickets are not easy to get".
After reaching the end of countless tastings, they chose seaweed called "Ao Maze"; the first picked seaweed that has green seaweed mixed in. This seaweed is so rare that "Ao maze" is top 1% of the seaweed caught in the Ariake Sea. When you actually eat it, you would be amazed by the seaweed's chopstick-cuttable-softness, elegant flavor of the sea, and exquisite smoothness.
2 Bento varieties are available: "Sea" is a seafood bento with a large and delicious juicy salmon overflowing from the box and "Mountain" is served with tender teriyaki chicken that is carefully prepared with salted rice malt and ginger. We accept orders until 18:00 the day before. You can enjoy the bento in your room or at  the counter in the lobby. Don't worry about wondering around to find a place to eat.
We also have a plan with breakfast included available now. Please take this opportunity to taste Bento beloved in Japan.