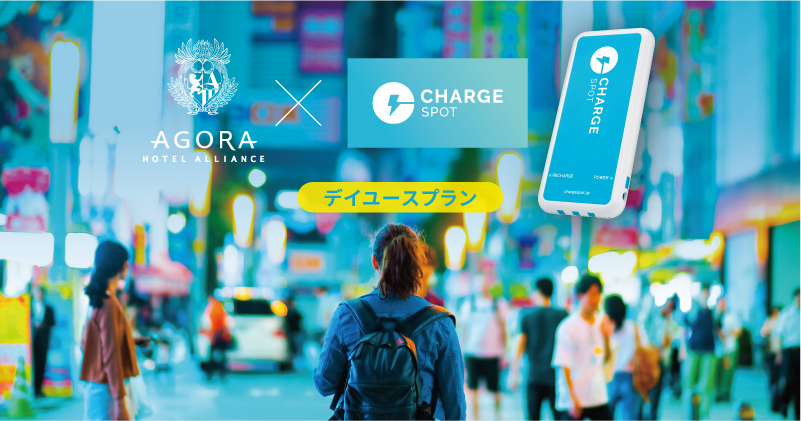 [Special Day Use Plan] Stay up to 7 hours anytime from 3pm to 10pm
Agora Hotel Alliance offers a great value day use plan for business and remote work or a little relaxation. (Excluding some facilities)
You can stay for up to 7 hours after check in at any time between 3:00pm and 10:00pm. Spend your own day use as an office replacement for teleworking or relaxing while sightseeing.
Agora × ChargeSPOT Tie-up Campaign – Receive a coupon for one free recharge
ChargeSPOT stations are installed at more than 38,000 locations nationwide, including nearby convenience stores and train stations.
Mobile batteries can be borrowed and returned at any ChargeSPOT, so you don't have to worry about running out of charge suddenly on your trip.
Please enjoy a comfortable travel experience.
<Plan Period>
From March 8, 2023 to April 20, 2023
<Benefits>
– First time ChargeSPOT users will receive a ChargeSPOT 330 yen coupon x 1 per person (maximum use of less than 6 hours)
– A 4-piece additive-free amenity set as a gift (For female guests)
<Eligible Facilities>
Agora Tokyo Ginza
Agora Place Tokyo Asakusa
ONE@Tokyo
TSUKI Tokyo
Agora Kyoto Shijo
Agora Kyoto Karasuma
Hotel Agora Regency Osaka Sakai
Hotel Agora Osaka Moriguchi
Agora Place Osaka Namba
*Please note that this plan may not be applicable for some dates depending on availability.
*This promotion will end when the coupons are out of stock.
*Check-out after 10:00pm will switch to the regular room rate.
*Please let us know your check-in time when you make your reservation.

RELATIONS
There are no related articles yet.